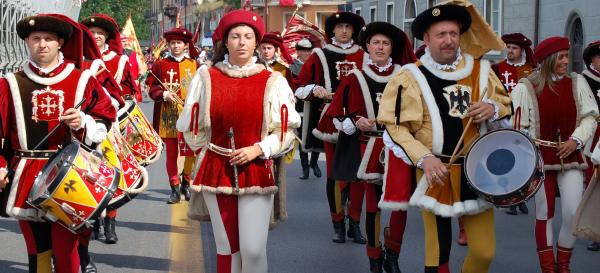 The afternoon of June 17th is dedicated to the celebrations of Pisa's Patron Saint Ranieri.
Four boats representing the 4 ancient town districts compete in a Regatta on the River Arno – the so called Regata di San Ranieri, heritage of the past glory of Pisa as an ancient maritime republic.
Each disctrict is distingueshed by its own colours:
San Martino (red)
Sant'Antonio (green)
Santa Maria (blue)
San Francesco (yellow)
The fibreglass boats have 5 fixed seats with 8 oarsmen, a steetsman and a climber.
The distance covered is 1500 metres starting upstream from the Ponte della Ferrovia (the Railway Bridge), the finish being in front of the Palazzo Medici along the Lungarno Mediceo.
The final victory does not depende upon the arrival order of the boats but upon the climber's skill who after boarding a boat anchored at the finishing line, has to climb up one of the 4 rodes reaching the top of a 10-metre-high mast hoisted on the boat in order to gasp the banner wich is the symbol of the victory. Two geese represent the meagre prize for the last crew to finish.
The catch of the banner recalls the ancient exploit at Lepanto, when the fleet of the Knights of Saint Stephen boarded the Turkish flagship and stole the Muslim fight banner waving on the mast. This banner, recently restored, is preserved in the Church of St Stephen of the Knights in Pisa.