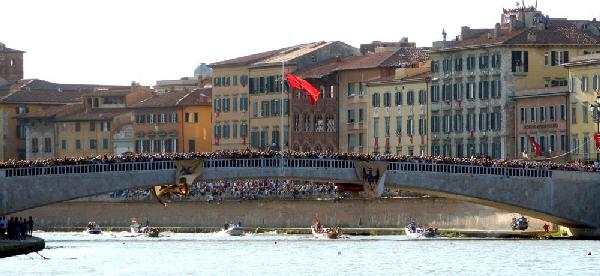 Since 1956 the cities of Amalfi, Genoa, Venice and Pisa have partecipated in the Regatta of the Ancient Maritime Republics. The event evockes the past glory of the most important episodies in the history of the four Maritime Republics.
The first official edition took place in Pisa on the 1st July of that year. Since then, every year the challenge is hosted in turn off the coast of Amalfi and Genoa, along the River Arno in Pisa and in the lagoon of Venice.
The four boats representing the four Republics are maked by different colours:
Blu for Amalfi
White for Genoa
Red for Pisa
Green for Venice
Each boat has a figure-head at the prow:
The winged horse for Amalfi
The winged dragon for Genoa
The eagle for Pisa
The lion for Venice
The Regatta is preceded by a great parade of 320 pepole (80 for each Republic) which evokes the characteristics, the events and the characters of the history of these four ancient maritime cities, which during the Middle Ages, ploughing the seas with their fleets prospered and spread their culture throughout the Mediterranean by means of their military and commercial dominion.
The peageant of Pisa goes back to the legend of Kinzika de' Sismondi, the pisan heroine who according to the tradition saved the city from an invasion by Saracens.